Where do I send my documents to verify my income?
We want to make this process as seamless as possible, so have provided 4 ways in which you can send your documents to us.
Regardless of which option you choose below, please rest assured that any information you provide will be treated as strictly confidential in line with our Privacy Policy and would not be used for any other purpose than to fulfill our regulatory requirements with the UK Gambling Commission.
You can find out more information on what documents you can send. However, customers prefer to send in a recent payslip to verify their income or provide a bank statement that shows their income and also deposits to Virgin Games.
Open Banking allows you to share certain financial information that only you and your bank can see, such as your balance and transaction history, with Virgin, instead of having to send in actual documents via Live Chat or Email.
The idea is to make it as easy as possible for you to provide us with your bank statements, and in the securest way possible.
Here is a flow of how Open banking works.
Once you have agreed to use Open Banking, Virgin will send you a secure link, that once clicked on you have 24 hours to finish the process, otherwise the link becomes deactivated for security purposes.
The link will typically look like this:
https://openbanking.transunion.co.uk/web/en/cORr_6BDOlqSCNWccz
Click on that link and it takes you to the following screen, where you would need to select your bank – for this example we have used Halifax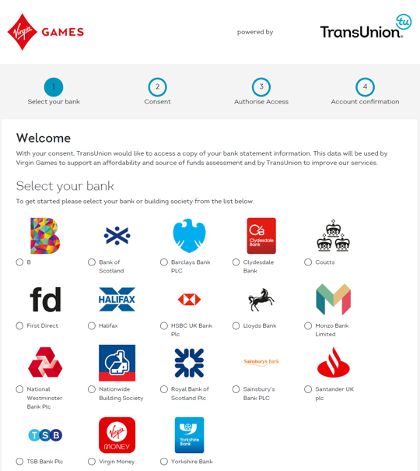 Once you have selected your bank, you are taken to the consent page:
You will then be taken to your online banking home screen to login to your account
Once you are logged in, choose your bank account from the list that is displayed and once complete, you will receive a confirmation message.
For more information on Open Banking, please visit their website.
Option 2 – Virtual Assistant – Upload Docs
Some customers prefer to upload documents to us directly, therefore you have the option of going through live chat and speaking with one of our agents, alternatively you can go through our Virtual Assistant and upload your documents securely and it automatically gets passed to our team of experts to review your documents.
Click on the 'Chat to Us' icon in the bottom right corner of your screen, and when prompted, select the option to upload your documents via the AI bot option.
If you click on the 'Chat to Us' icon in the bottom right corner of your screen, this will go through to one of our verification agents.
You will be able to upload the documents securely through live chat and one of the team will be able to verify your documents as soon as possible.
Some people prefer to just use email and send the require documents directly to our team – that is perfectly OK with us – please attach your documents and send these to docs@virgingames.com or hit that 'reply' button on the email we sent you requesting the documents and one of friendly team will review the information as soon as possible.
What happens if I don't provide it when asked?
Unfortunately, if we are unable to speak with you or you can't provide us with the required information or documentation, we may take steps to restrict your account until we are able to obtain this.
This is the last thing we want to do, and we want our customers to enjoy playing on our site, therefore we urge you to comply with the request as soon as you can so that we can verify the information and let you continue enjoying your gambling.
If you would like to know more information on operators requesting personal information such as bank statements, you can find this information on the UK Gambling Commission website.